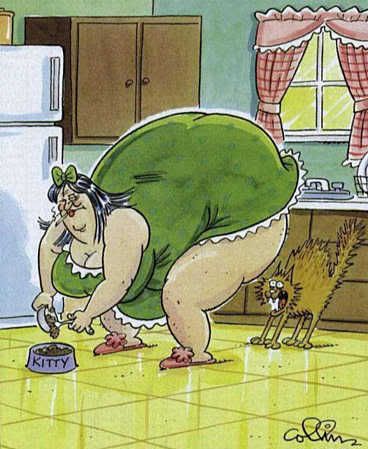 Are you like me? Are you tired of scaring your cat every morning?
Well, this is why I am on a mission. Many of you know my sister and I are off to Maui this summer for vacation. What you may not know is that a couple years ago we went on a "sisters trip" there and we vowed we would be thin, tan and feeling amazing when we went. That statement lasted about 24 hours. When we showed up in Maui we were feeling amazing that we got to go, wished we had lost weight but couldn't wait to get there!
When we got there we decided to go lay out at the beach and the earth stopped spinning for a minute and our heads started...... WHAT IS WRONG WITH US? Why did we do this!? We are now embarrassed heading out to the beach in our swimsuits instead of feeling comfortable in our own skin.
We REFUSE to go this year and do that again. I am not going to sit and beat myself up over not being in the best shape I can be. Not again. I'm not going to be afraid to wave to someone for fear of........well you get it right? It's not pretty. My Larms.... my dang Larms.....
I may not have my spaghetti legs back but they aren't going to be Lasagna anymore.
That's right I have taken control of me and I'm feeling better than ever. I did have my first melt down day since this started.
I had to keep kicking myself in the butt and talking myself off of the ledge yesterday. I'm not sure exactly where the funk came from. Maybe just from the fact that my life has been centered around food it appears!
I would call a girlfriend "Want to meet for lunch?"
How come it's not "Want to meet for a walk?"
Call Hunk "Want to meet for dinner?"
How come it's not "Want to work out in the bedroom tonight?"......sorry it slipped out.
My point is things have revolved around my love of eating out for years. I didn't even realize how much I love it until now. So it's changing my world. But it's changing it for the better. I know this and I can see this and I'm grabbing on to it and I'm reminding myself that I deserve to do this for myself.
Nobody can do this for me. No amount of money can make me thin. No amount of money can make me organized. No amount of money can make me happy......although.......it could help so donations are being accepted...... KIDDING....
But you get the point I'm trying to make.
So I didn't blow my eating yesterday when I wanted to. You know what I did instead? I went to the gym! I worked out while my daughter was at guitar lessons.
And today? I FEEL GREAT!
Today is my weigh in day......oh crud! I have to go weigh in.......
I'll be right back!
Did you miss me?
I'm down TWO POUNDS.....and some change......It's not the five pounds I dropped last week but it's still DOWN. This is a trend I'm not used to seeing. But I can so get used to it!
This feeling I have right now......... Oh and the feeling I had yesterday morning of being able to get on a pair of pants that were too tight for me before. THAT is why I'm doing this!
We can do this! We are doing this! We are single handedly bringing Richard Simmons Deal a Meal back to life. LOL
I'm going on an overnight with a friend tonight (it's a surprise to her so I can't say where yet) and this is how I know my ways are really changing........ I told her to bring tennis shoes and a swimsuit.
She is probably thinking leisurely walks and jacuzzi...... Well, of course......but the main reason is this place has a gym and a heated pool. I'm thinking work out in the gym and laps in the pool equals Momma drinking a glass or two of wine!
A girls gotta do what a girls gotta do. And I'm splurging tonight by having a glass of wine with a friend.......but I'm working for it......
Why? Because I deserve to put the effort in and not let myself down on the scale next week.
I think what has worked best for me is taking it one day at a time. That is how I got thru yesterday. I wanted to eat a burger and fries and I kept telling myself that I'll feel better tomorrow. Just get through today and don't worry about tomorrow. And it worked.
So if you are struggling try it. ONE DAY AT A TIME. Don't think about HOW MUCH you need to lose. That can be overwhelming. Don't think about how long this is going to take you....Think about eating healthy TODAY.
We can do anything for a day.........right?
Ciao Bellas~