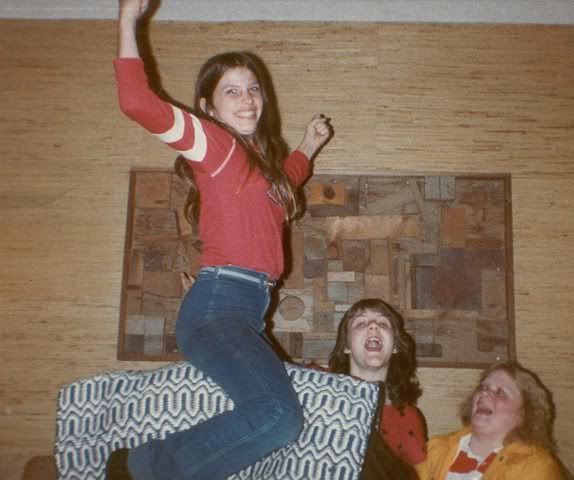 Ok, so I'm not really on a horse, I'm riding my friend Cori! But it is her new horse blanket and I was pretending she was a horse so I think the photo still works. Ah to be young again........
The point is...... I'm back in the saddle again! I fell off the skinny horse and I'm jumping back on.
Years and years and years and years ago.......when I wanted to lose my baby weight after my first child......ya....cuz I was oh so fat...sigh....how I wish I was THAT FAT again.....
whatever......
Wait, where was I?
Oh Ya! Many moons ago I got in to a weight loss challenge group at work. It was one of those moments where "It clicks"........ You know one of those moments when you are on the train to thin-town. You pass go and you collect your $200 and you keep on moving. Nothing gets in your way. It isn't HARD to stick to your new diet eating habit, you are excited about it.
I've only had this happen a few times. But when it does, it's wonderful!
Well, MANY MOONS ago.....this happened to me. I kicked butt. And I did it with good ol' Richard Simmons Deal a Meal cards. I remember I loved it! It was so easy. OH and I have to give credit where credit is due.... Jane Fonda workouts. I would pop Jane into the VCR each morning before going to work and do her one hour work out. Then that evening (Hunk worked out of town almost every single week, in those days) I'd feed my son and after he went to bed I'd pop sweet, perky, skinny, Jane back in the VCR and do it all over again.
I can picture the leg warmers like it was yesterday. How I had the energy to do this twice a day is what I can't wrap my head around today.
So I'm in another weight loss challenge with some family and friends. I've been chugging along..... OK, I've been riding the roller coaster of up this week, down this week, up this week, down this week...... And it's making me sick to my stomach at myself!
Poop or get off the pot Stephanie!
So this morning it hit me. DEAL A MEAL. Go back to what worked years ago. Even if it is just to get me chugging along.
Why this morning did this pop in my head?
Because yesterday I learned we may be able to spend a month on Maui this summer. And this means a swimsuit. I am not a rocket scientist but I can do some math and because of this it is VERY CLEAR that a bikini will never hit the beach on this body by this summer.
And lets get REAL here, I doubt it ever will. After my surgeries I look more like a road map than a centerfold.
BUT a swimsuit. To be able to wear one without feeling like sirens will go off on the beach because people feel they have just spotted a "beached whale". That's what my goal is at this point.
So BAM, I'm kickin' it up a notch. I may even have to dig up Jane and some leg warmers..... Or maybe the 30 day shred that made me curl up in a ball sucking my thumb, rocking back and forth crying for my mommy for a week. I may need to upgrade to the shred.
I wonder how much it will shred off my butt in 30 days?
So here is to hoping Maui comes to be and that if it does I will be as ready for it as I can be in a few months time.
"Inside this body lies that of a skinny lady. But I can usually shut her up with chocolate."
Oh ya, skinny girl is coming out to play....... Put down the chocolate and nobody gets hurt.