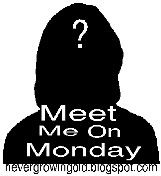 Meet me on Monday via
Miss Java
! Love her, you will too, go take a peek.
I have a funeral today for my hubby's Grandfather so I'm in a bit of a rush but I didn't want to miss out on meeting some new friends this Monday Morning. I'm sure today will be filled with laughter and many many tears. Friends, new and old, after a long day like today will be is just what the Dr. orders.
So here are a few things about me! (sorry no photos)
Questions:
1. What is your favorite pasta dish?
Fettucini Alfredo (hands down.....probably has the most calories too, and this is probably why it is my favorite)
2. What is the last thing you do before going to bed?
I usually watch TV and then I think about each of my children/ family and friends and pray that God watch over them while we sleep.
3. How many nights a week do you go out to eat?
Lately it's been a bit more because of taking my son to wrestling practice "in town" but normally because we live so far away from everything, eating out isn't much of an option. Although I guess it's not TOO far away to some restaurants, it's just not real convenient. So as I ramble on, the answer is we don't eat out very often.
4. Are you an avid book reader?
I LOVE reading books. Mostly by Karen Kingsburry OR I read many books on parenting, marriage, finances, etc. I love love love to learn new things via reading!
5. Would you rather have x-ray vision or bionic hearing?
Can I have both? Hmmmmmm. I guess I would have to say bionic hearing. Then when the whispering is going on I would know what those dear sweet angelic children of mine are plotting against me planning to ask me.
Have a great day!
I look forward to meeting you all when I return from my "Farewell to Granddad" day. He will be greatly missed.
Ciao Bellas~
~Momma~