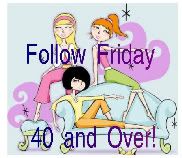 Don't forget tomorrow is the last day to enter my

giveaway

- Fireproof those marriages (smile)
Thanks to Java over at
Never Growing old
for this fun Follow Friday idea! And my friend Nan over at
LBDDiaries
won the blog hop! I'm so excited for her!
This is such a great idea and such a wonderful way to get to find other blogging friends! We all want followers, we all hope that what we put our blood (from so much typing), sweat (it's hot in the room) and tears (sometimes of joy, sometimes of sorrow) into will make someone smile, laugh, think and sometimes even cry.
There are so many wonderful people out there in this blog-land of ours and I for one feel sooooooooo very blessed to have met many of them.
We all come from different backgrounds with different experiences and yet most bloggers all have one thing in common. We LOVE to communicate and we LOVE people.
Thank you sooooo much for visiting my blog today and I really hope to see you back and for the chance to get to know you.
Be sure to leave a comment so I can come visit you too! (I just LOVE to travel)...