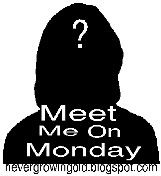 It's time for Meet Me On Monday again! Yay!
Sadly I don't have time today to attach fun photos to each of my answers.. Boo Hoo.... BUT I've been so busy organizing today! Super Yay!
I'll be posting that soon. I was working on my Home Office Desk and Homework Desk. I had so much stuff on them that was not related to what each of them were supposed to be used for and NOW they are looking great.
SO MUCH NICER TO DO STUFF AT MY DESK NOW!!
Ok, here are my questions. Hope ya join in and tell me about yourself!
1. What is your favorite kind of potato chip?
Salt and Vinegar
2. Do you make your bed everyday?
Yes. I didn't used to but now ALMOST without fail I make my bed each day. It's part of my BEST LIFE/LIVING MY ALOHA plan.
3. How often do you go to the hair salon?
Once every 6 weeks. Like clockwork baby.
4. What do you dip your French fries in?
Ketchup and Mustard (and I sprinkle of Tabasco Sauce)
5. Do you shop with coupons?
This was my new goal to start doing as part of my Living My Aloha Plan but I'm still at the learning stages. Any tips??
Thanks so much for this wonderful idea JAVA! You can see Java's Meet Me on Monday on her Never Growing Old Blog
here
Again, sorry I don't have any fun photo's on this post but I hope to hear from you!!!!
Ciao Bellas~
Momma